sentiment_satisfied_alt
Acknowledgements
Related page
:
https://azhagi.com/indic
Gratitude
is not only the greatest of the virtues, but the parent of all of the others - Cicero (106-43bc)
A noble person is mindful and thankful of the favours he receives from others - The Buddha
Gratitude is a currency that we can mint for ourselves, and spend without fear of bankruptcy - Fred De Witt Van Amburgh
---
The seed for Azhagi was sown in 1999 and it was developed against very many odds, under torturous health conditions, to provide the Tamil-speaking diaspora with a software that will benefit them immensely, in an exceedingly
user-friendly
manner. It is only with the Lord Almighty's grace that I have been able to enhance Azhagi slowly and steadily that it now caters to the needs of a larger audience in very many Indian languages. Not only that, Azhagi (Azhagi+ rather) is now extendable to type in ANY World Language (ANY keyboard layout, ANY font). That surprises even me! But all this has been possible only by GOD's grace and by the support of so many wonderful entities.
Apart from
my family and some of my friends/relatives
, I convey from the bottom of my heart, my "total indebtedness" to the following (
not in any specific order
) too, without whose tremendous moral support and/or encouragement, in one way or other, at 'different stages and periods' (* see footnote) of Azhagi's evolution, Azhagi would not have reached this level and benefitted users worldwide.
(Late) Mr.
Anthony Muthu
, Chennai.
Dr. Azhaganandam, Sundaram Medical Foundation, Chennai.
Dr. Gopal, Sooriya Hospital, Chennai.
Dr. Ramasubramanian
, Sooriya Hospital, Chennai
(at present in Apollo Hospitals, Chennai)
Dr. Arulalan, Katpadi, Tamilnadu.
(Late)
Director Shri.Visu
(Former Convener - Arattai Arangam, SUN TV) and his team, Chennai.
(Late) Mr. A.K. Rajagopalan, editor,
mazhalaigal.com
, Coimbatore.
The
Tamil wikipedia article
on Azhagi exists today because of Sri. A K Rajagopalan's initiative only. The
facebook page
for Azhagi (created in Oct 2013) is also his initiative only. The page explaining in exquisite detail, the
easy and flexible nature of Azhagi's Tamil transliteration scheme
was also put up by him only. I have written more about Sri. AKR, his invaluable work towards spreading the awareness of Azhagi/Azhagi+ and his immense contribution to this society, esp. children, at
sos.php
also. Please see, if at all and when you can.
Sri. Thyagarajan, Puttaparthi.
Please see
https://azhagi.com/swami
Sri. Varagooran Narayanan, Chennai.
Please see
https://azhagi.com/periyavaa
Mr. Koteshwar, Secunderabad.
Always indebted to him. Gave so many ideas for improving Azhagi+ during its initial stages. Azhagi+ is here today in such a sophisticated form because of Sri. Koteswar regularly prodding me for one enhancement after another. I have specifically mentioned about him here -
changecreate.php
. He is also the contributor of the 'AzhagiPlus-Devanagari-Unicode-UserDefinedPhonetics1.xml' file about which I have mentioned
here
Mr.
Sathiamoorthy Venkatapathy
, Chennai.
At the ripe age of 82, the moment he heard of Quora, he immediately joined quora, learnt about its functionalities and did the needful to spread the news of Azhagi in it. He was the "first user" to write in Quora on Azhagi (in both
Tamil
and
Hindi
). What an inspiration to all users of Azhagi! (esp. the long-standing users, some having been users for even over 15 years!). My humble namaskarams and salutes to Sir (an utterly simple human with a toweringly golden heart), ever.
Sri. Nithi Anand
, France.
A greaaaaaat human being. A
photographer
par excellence. A brillllliant writer. Just have a look at his writeup on Azhagi here -
nithiclicks.blogspot.com/2020/12/portable-lay-out.html
- and also the very many other writeups on Azhagi for which links are given at the bottom of the aforesaid post. You will start appreciating Sri. Nithi from various angles!!! :).
Long Live
my dearmost DIVINEST brother Sri. Nithi Anand! He is so so so so so special to me! Words just cannot describe how special he is to me! Sairam.....
Shri. Kesavan
, Kanchipuram.
Whaaaaaaaaaaaat an heart at such an young age! One can read all about Sri Kesavan's lofty contribution of 16+1 xml files in this facebook post of mine -
https://www.facebook.com/groups/Azhagi/?post_id=3492898054083063
. And, if this is not enough, he helps me in testing out the XML files. Testing is a most crucial component of any software and I sorely missed someone who can do that to the maximum extent possible, until brother Mr Kesavan came into my life in 2020. He is so meticulous in his testing of Tamil Typewriter layouts and I am so so so so so so thankful to him.
Shri. Imthiyas
, Abu Dhabi
Quite deeply spiritual-minded; Loving and caring. And, whaaaaaaaaaaat a
loving offering
he made me in Jan 2021!!!!! Sairam.....
Shri. Gopalan Padmavathy sir
, Pondicherry. All about Gopalan sir's "
Free Support
" for Azhagi-related queries -
Here
.
"
மனிதருள் மாணிக்கம்
". யார் ஒருவர் எந்தவொரு எதிர்பார்ப்பும் இல்லாமல், மற்றவர்களுக்கு உதவி செய்ய, எந்நேரமும் தயாராய் ஆர்வமாய் உள்ளனரோ, அவர்களை நான், என்னளவில், மனிதருள் மாணிக்கமாகவே பார்க்கிறேன். சாய்ராம்..... வாழ்க வளமுடன் திரு. கோபாலன் ஐயா.
What I have shared below (as a screenshot) is one of my early interactions with Shri. Gopalan aiyaa (in Facebook messenger), when I requested aiyaa to become a "Group Expert" of our
Azhagi Facebook Group
, in 2021. From thereon, aiyaa has helped soooo many Azhagi users, in very many different ways, spending days and hours together in that process. Not only that, though having studied only upto 12th standard and a farmer by profession, he has learnt so many technical aspects of Azhagi+ (e.g. XML files creation) by himself. He has learnt to create fonts itself (very tough to learn), since Dec 2021, and is an expert fontographist now, in my humble opinion. Long Live Shri. Gopalan aiyaa Long Live ALL!
Note:
Though
Shri. Gopalan sir cannot talk in English fluently
,
he can write/reply in English to a good extent
. So, one can feel quite free to write to him in English. Gopalan sir can understand spoken English too to a good extent.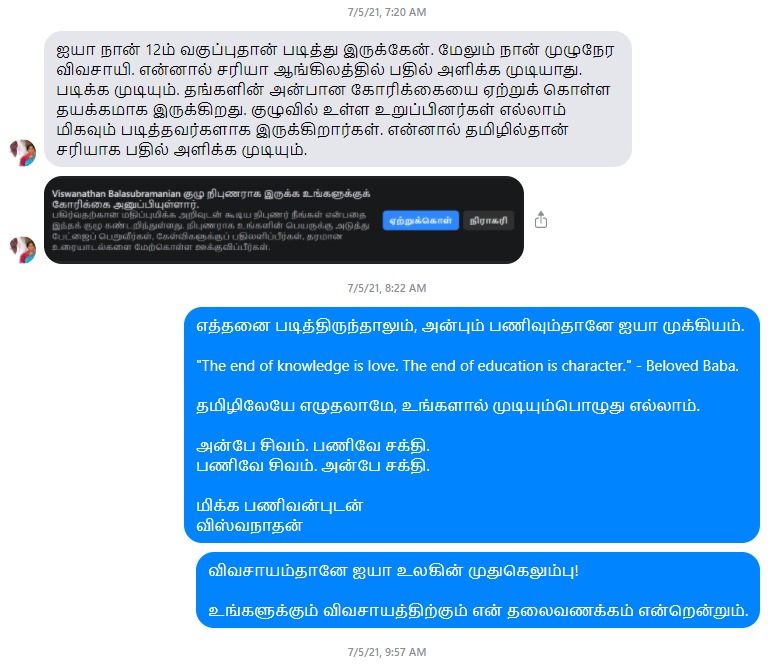 Shri. Ramesh Bapu
, Thirupathi.
My hearty hearty hearty heartfelt thanks thinking of Shri. Ramesh Bapu sir's
EXPANSIVE EXPANSIVE EXPANSIVE Love
, every time he writes in Azhagi Facebook group.
Mr. Muralitharan
, Theni.
I need to write a lot about my brother Mr Muralitharan (whom I came to know only in May 2020), in times to come.
I see my Azhagi in my kuttith thambi's eyes
. For the moment, to get just a very small glimpse of my wonderful brother's largeheartedness, kindly please see
https://www.youtube.com/watch?v=IO95MrtODb4
. Will write more on my brother later.
Shri. Peruvemba Subramanian Ramachandran
, Kerala.
I am ever ever ever indebted to sir for introducing
this eternally beautiful song
to me (in 2017, if I am right) and for letting me know about
this ETERNAL Treasure
(in 2021). EVER. Sir does so much to this society which goes unnoticed. Like him, there are many who do service which largely goes unnoticed by this society. But, these kinds of selfless services are always noticed in the realm of the Divine, I am sure, and that alone really matters.
Mr.
Vijay
, Chennai.
He is soooo sweet and adorable. Creating
YouTube video demos
and explaining the various features of Azhagi+ in Tamil, in such a simple and lucid manner!!!!!!!!!!!! This is an absolutely marvellous thing. I thank Mr Vijay profusely and profoundly. For ever. Apart from videos for Azhagi apps, he has 100s of other extremely useful educational videos (teaching programming in python, c, c++, java, etc. - in Tamil), all created even amidst his very very humble facilities. Hats off to him! Thanks in TONNNNNNNNS to Mr Vijay. For ever.
Mr. Rathakrishnan Thirunavukkarasu
, Thirunelveli.
Lovely man! Feeling lot..... of gratitude towards him. Since Dec 2016, he has been regularly
uploading
30-line transliteration text files* for various non-unicode Tamil fonts at Azhagi's Facebook Group. He affording such quality time for providing such "DIRECT" contributions to Azhagi+ does make me extremely happy. This is immense contribution to the society by him. He was/is the first one (and the only one so far, apart from Mr Mohanan who created
one file
) to contribute towards this 'any tamil font' feature, though I wrote about this feature in Azhagi's Facebook Group many a times in the past and requested very much, many a times, for someone to contribute.
(*) based on the unique feature of Azhagi+ explained at
anytamilfont.php
whereby one can transliterate in ANY Tamil font by creating a simple 30-line text file.
Mr. Sundar Rajan (KPS Sir)
, Bangalore.
Sir is very very generous. In the very first message he wrote to me itself he was very keen that he should buy me some software that I wish. I resisted but his LOVE won me over after some weeks. For me, it is not that my wife could not have bought that software herself (it being around 1K only for lifetime use) but when somebody lovingly feels to contribute something, I need to accept that contribution, as an humble acceptance and acknowledgement of their LOVE. Also, I feel that when a brother/sister LOVINGLY offers a contribution, he/she becomes part of Azhagi SatKarma. And, Azhagi is God's own app. Not mine. So, I am sure you understand what I mean. In fact, that is one of the primary reasons for which I accept (at least once) contributions such as what KPS sir make. KPS sir was ready to get me monthly subscription itself for a software which I did not agree to. He enquired me again during festival season too whether he can get me some software at discount price. I did not accede for that too. I have understood his LOVE, Gratitude and kind-hearted helping nature. That would suffice. As of now, I shall wait for the day my son starts earning. Sairam..... Long live souls like KPS sir. Sairam.....
Update: As of 2021, my son had started earning.
Mr.
Venkatesh Krishna
, Chennai.
Very very special and great many thanks to Sri Venkatesh Krishna, for "regularly" writing about Azhagi in his Facebook page. For instance,
see this post
. I admire Sri Venkatesh Krishna's generous heart.
Mr.
Jayaraj
, Chennai.
I have written about him
here
and
here
. After his office hours, he even attends support calls over phone for Azhagi!! Speaks volumes of his love and kindness!!! My humble thanks and salutes to him.
Thiru.
Kolappan Nathan
, Coimbatore.
Very happy to see a current-day 'software professional' showing such genuine appreciation towards Azhagi+. He has been giving his valuable time to
write about
the uniqueness and usefulness of Azhagi+ in various places over the net, thus doing what best he can, to
spread
the news of Azhagi+. He also tests out Azhagi+ on various aspects. My profound thanks to him.
Mr. Venkat Mani, Mumbai.
I stand ever grateful to Mr.Venkat Mani who created keys.dll (which helps to lock keyboard inputs) which I renamed as venkeys.dll to honour Venkey's monumental help.
Mr.
P. S. Ranganathan (alias 'kadugu')
,
[email protected]
, , Fontographist, Chennai.
Special Note:
Mr. P. S. Ranganathan (kadugu) is not only a well-known humour writer but also a highly skilled fontographist. All of Azhagi's exquisite Sai fonts (SaiIndira, Sai-Sai and SaiMeera) are his wonderful makings only. I am EVER grateful to him for his great help, right at the time of my pressing need in Jan 2002 and his continued wishes/encouragement thereafter. He might have nicknamed himself as 'kadugu' but his heart is indeed akin to 'Himalayas'. Kadugu sir turned 80 [believe it or not! :) ] in Mar 2012. Sadly, kadugu sir reached the Lotus Feet of the Lord Almighty in June 2020. Sairam.
Sri. Seshadri Nadathur, Bangalore.
Eventhough not a software professional, he has taken special interest to read and understand all that I have written in
changecreate.php
and come out with the file 'AzhagiPlus-Tamil-Unicode-SanTamilPhonetics.xml' as his first 'direct' contribution to Azhagi+ (as mentioned
here
). Thanks a ton to him for the same.
Mr. V.K. Naageswaran, Chennai.
The page
author.php
exists because of him. He was the one who translated so beautifully the
views.php
page, from Tamil to English.
Mr. Muthuswamy, Sathyamangalam, Erode.
One who adores 'Azhagi' and always has a thought in the corner of his mind towards seeing Azhagi reach as many as possible so that more and more of the society gets benefited. To understand his loving and kind heart, please
read this
and
this
.
Mr. Mohanan
Mr. S. Visweswaran,
[email protected]
, Canada.
Mr. Achalam,
achalam.com
, Mumbai.
Mr. Venkatraman, Delhi.
Mr. Sakthidasan, London.
Mr. Hare Krishna Mani, Canada.
Ms. Aruna, Jaipur.
Mr. Balu, sslindia.org, Chennai.
Mr. Pushpa Raghavan, Chennai.
Mr. (Late)
Thayumanavan
, Chennai.
Mr. N. Suresh, Chennai.
Mr. Natarajan Kalpattu, Chennai.
Mr. Venkatram Shrinivas, Bangalore.
Mr. Halasya Sundaram, Tirunelveli.
Mr. Saurabh Dua, New Delhi.
Mr. Vijaya Sarathy Rao, Chennai.
Mr. Ganesh Chandra,
tamiloviam.com
, New Jersey.
Special Note:
azhagi.com got registered in Sep 2002, thanks to the initiative of Ganesh Chandra, editor of tamiloviam.com. He was persistent that I should register a dot com site in the name 'azhagi' (since my software is named 'azhagi') and one fine day went ahead and registered it all by himself. Ganesh (along with dear 'halwacity' Vijay) later went on to find the best webhost (lunarpages) for azhagi.com and saw azhagi.com up and going in Dec 2002. I did not have to move even a single finger for all this. What a thoughtful and timely help it was at that time! My HEARTY thanks ever!
Mr. Dineshkumar Ponnusamy
(USA)
Special Note:
The English wikipedia article on Azhagi (you can read it
here
) exists today because of young software engineer Dinesh's initiative. I remain ever thankful to Dinesh because this wikipedia article would have helped many more to get to know about Azhagi/Azhagi+ and get benefitted by using them. Once Dinesh initiated the article (in April 2012), a few more brothers around the world (incl.
Sri. AK Rajagopalan
- who initiated the Tamil wikipedia
article
on Azhagi, in 2007 or so) contributed their very best for the article "to stay" and grow. My "immense thanks from the very core of my heart" to ALL of them. If one (who is interested) goes through these links (
link1
,
link2
,
link 3
), my feelings will be understood better. Well, I was not knowing Dinesh in any way, prior to him initiating the English wikipedia article on Azhagi. But, since then, I have come to know much about Dinesh's kind heart and his great nature to help others voluntarily, without expecting anything in return. Since April 2012, Dinesh has been enhancing Azhagi's Tamil wikipidea article too. He has created
this wikipedia page
too, on his own will. He is the creator of
Azhagi Facebook Group
too, which since October 2014, has been serving to the queries of 100s of users, all over the world.
Mr. Jishnu Mohan
(Bangalore, India)
Thanks,
in TONS
, to Mr.
Jishnu Mohan
(
https://blog.j15h.nu/indic-keyboard-re-release
,
https://github.com/jishnu7
) and
SMC
(Swathanthra Malayalam Computing) for their 'Indic Keyboard' app because 'Azhagi' app is based on
Indic Keyboard
OPEN SOURCE Android app. Frankly speaking, my heart is overflowing with gratitude to Shri. Jishnu Mohan. And, for ever. Really. Any number of thanks is not enough to him because but for his 'Indic Keyboard' initiative, it would have been near-to-impossible for me to have released Azhagi app in the play store. Thanks to the Lord Almighty, ultimately.
Mr. Viswalinga Surya
(Chennai)
Thanks,
in TONS
, to Mr. Viswalinga Surya (Sri
Sarva PraharaNayuthan
) for his timely help in providing his brand new (and quite costly) mobile phone (Nexus 5X) for me to test out my Azhagi app with it (from 4th to 9th Aug, 2016). He had bought it only on 2nd Aug or so and yet he was ready to part with it. Mr Viswalinga Surya wrote for the first time in Azhagi's Facebook group just a month ago only (July 2016) and that was the first time I was coming to know about him too. Azhagi's 2 earlier beta releases - made in June/July 2016 - did not get installed in a few random mobiles (of 5 to 6 users). Since I could not replicate that issue in any of the mobiles of mine or of my immediate near/dear, I was wondering how to go about fixing that issue. In August first week, I was really getting very very desperate and it was at that time that Mr Viswalinga Surya
wrote
in our Azhagi facebook group that he would volunteer to give his mobile to me. Thereafter, he talked to me (for the very first time) over phone on 4th August and came on his own (from keezhkattalai, which is quite far off from my place) and handed over his brand new mobile to me. It was only after he came to my home, I enquired the mobile's cost. I was not knowing until then that it was quite a costly mobile. I became hesitant somewhat but Mr Viswalinga Surya was very encouraging and it all seemed an easy thing for him to do! :) He was so cool. :) What a himalayan heart this young man (just 25) has!
My humblest namaskarams
to him. My SALUTES to him, from the very bottom of my heart! Well, it was because of his timely help that I could fix the issue and release Azhagi app's very first published version in Google play store on 10th Aug. And even on 8th August, Mr Viswalinga Surya came on his own and collected his mobile, always ensuring that he collected it at 'my convenient' time, rather than his. I can never ever forget this FANTASTIC gesture from Mr Viswalinga Surya and his largeheartedness in general. Thanks ever to the Lord Almighty who always takes care of His children's needs in the best ways He alone knows!
Mr. Conjeevaram Sadasivam Ravindramani, Chennai.
Does his bit time and again, to spread the news of Azhagi, so that many more of the society get benefited. For instances,
this facebook post
, spreading the news of Azhagi Android app;
this hearty review
, for Azhagi Android app. Lots of thanks to Sir.
Mr. B. Sivakumar, Larsen & Toubro LTM Business Unit, Chennai.
Mr. S.P. Ramamurthy, Larsen & Toubro LTM Business Unit, Chennai.
Mr. Vijay Jawaharlal, USA.
(Late) Mr. Cisro, Kanyakumari.
Mr. Albert Fernando, USA.
Mr. Pollachi Nasan, thamizham.net
Ms. Gayathri, Chennai.
Mr. Vijayaraghavan, USA.
Ms. Vathsala Shivakumar, Cairo.
Mr. Prabhu Anand, Singapore.
Mr. Rajavel, Chennai.
Mr. Santosh, CTS, Chennai.
Mr. V.Chandrasekaran, Nokia, USA.
Mr. Khalil Ahamed, Malaysia.
Mr. N. Subramanian, Manager(Systems), Kalki Weekly, Chennai.
Mr. N.S. Kumar, Qatar.
Mr. P. Srivatsan, L&T (LTM Business Unit), Chennai.
Mr. R. Suresh, Salem
Mr. Loganathan, Thirunelveli.
Mr. Muzafar Ghani, Paediatrician, Kuwait.
Mr. Ramakrishnan Thanimalai, Technologist, Malaysia.
Mr. Arivan, Malaysia.
Mr. Ram, Corporate Communication, Orchid Chemicals and Pharmaceuticals, Chennai.
Mr. Shankar, Management Consultant, Bangalore.
Mr. M. Vedha Manikandan, Chennai.
Mr. Sathyam, Editor, tamilnation.org
Mr. Ramachandran, Special Correspondent, 'The Hindu', Chennai.
Mr. Chandramouli, Freelance Reporter, Chennai.
Mr. Prince Frederick, Reporter, 'The Hindu', Chennai.
Mr. Senthil Kumar, Program Manager (Namma Oor Vignani), SUN TV, Chennai.
Mr. Shivalkar, Program Manager (Kaalai Malar), Jaya TV, Chennai.
Mr. Siddhiq, Mr.Ashraf and Mr.Nisar of 'thamizhootru' magazine, Chennai.
Thanks to all the azhagi users worldwide who have been a pillar of support. Thanks to those loving wishes and prayers from Tamil brothers and sisters across the globe, over email and/or phone, which keeps me enhancing Azhagi amidst my daily
obstacles
.
(*) This means that some of the persons mentioned above might have even forgotten me, having offered their help or moral support at some distant point of time in the past. But, their help at that point of time was invaluable to me and it is remembered with deep gratitude.
Note: As regards the roles of the noble souls I have mentioned above, it was their roles at the point of time when they offered their help. So, the roles of many of them would have definitely changed by now.
Special thanks to
:
Krool - for his lofty and sublime work - in creating a whole lot of Unicode-aware, dependency-free controls (a replacement for the MS Common Controls and MSFlexGrid control) for VB6. All of them are 100% free. Whaaaaaaaaaaaaaaaaaaaaaaaat a TREAT! Really. Salutes to Krool, for ever. Please do have a look here and also here.


Jordan Russell - for his mighty excellent and free Innosetup (jrsoftware.org) s/w with which only all of Azhagi's Setup.exe files have been generated so far.


Sheshadrivasu (the author of the well-known Indian languages word processor Baraha) - for his clear-cut help topics on all major Indian languages.


Vizacc dot com - for their excellent and most wonderful HTML Helpmaker using which I created my help files for Azhagi for very many years. So much thankful to them. 'Vizacc dot com' site does not exist now.


Helpndoc.com - Creating help files, that too in various formats in one go, had never been so easy and 100% free. Will always remain thankful to helpndoc.com for their wonderful software.


Microsoft - for their operating systems, various kinds of software applications - some of which are free (partly or fully), Unicode fonts, Unicode processing engines, etc., etc., etc. Thanks,

in TONS

, ever.


Google - for their search engine, browser, various tools for computing in world languages, innovations, AOSP (Android open source project), etc., etc., etc. Thanks,

in TONS

, ever. Please note that Azhagi app is based on 'Indic Keyboard' app which is based on the LatinIME keyboard of Google's AOSP.


Materialize - Hearty THANKS in tons to the people behind the MATERIALIZE project. It was based on their wonderful project (under MIT License), I redesigned and hosted a fresh, responsive, mobile-friendly and attractive azhagi.com website on 23rd November 2016. And, thanks a TON to Sri Viswalinga Surya for informing me about materializecss.com, sometime around July 2016.


https://getcssscan.com/css-buttons-examples - Thanks for the cute 'copy-and-paste' css buttons present herein.


Unicode.org - for Unicode charts, etc., etc., etc., - the prime basis for the various languages in which Azhagi+ is able to provide transliteration/typing now and the prime basis for Azhagi+ being in a position where it is extendable to ANY World Language now. So, ever ever ever indebted to Unicode.org


The developers of various other free software without whose efforts I may not be effecting certain routine tasks of the Windows OS in such an easier and faster manner. At one point of time (many years ago), I used to look into freewaregenius.com regularly for excellent in-depth reviews of freeware. So, thanks to the founder of freewaregenius.com too.


Photo credits
:
EMILE SÉGUIN - "Person walking on snowfield" - https://unsplash.com/photos/R9OueKOtGGU (used in azhagi.com home page, as of 10-12-2019)


Nikolay Tarashchenko - "Turned on MacBook Pro" - https://unsplash.com/photos/u76CN5rZeOU (used in the slideshow 'at the top of most of the azhagi.com pages', as of 10-12-2019)
If anybody feels that I have still missed out to mention certain entities, then it is purely unintentional and I shall feel sorry for my forgetfulness. You may feel free to contact me in this regard.
Kind regards
B.Viswanathan (
author.php
)