people_wc
Users
Presumably, Azhagi has lakhs of users (individuals, professionals, businessmen, companies, commercial establishments, government offices, lawyers, doctors, engineers, auditors, astrologers, policemen, teachers, students, farmers, organisations, associations, hotels, caterers, institutions, schools, churches, temples, clergymen, devotees, religious people, priests, Gnanis, seekers, Spiritual/Divine Centers [e.g.
ISKCON

]
, social workers, NPOs, NGOs, media personnel, political leaders, story tellers, translators, book-writers, publishers, website builders, singers, composers, directors, screenplay writers, script writers, meme creators, multimedia developers, videographers, DTP centers, blog writers, webzine editors, story writers, magazine editors, media houses, etc., etc., etc., etc., etc., etc. - there are umpteen kinds of users)
around the world
. A "few" of the organisational entities are listed below:
Tamil DD Podhigai, Chennai.

Rane (Madras) Ltd., Chennai.
Southern Railway PRO, Trichy.

Coimbatore Capital Ltd., Coimbatore.

Caterpillar India Private Ltd., Singapore.
Reynolds Pens India Pvt. Ltd., Kanchipuram.
Larsen & Toubro (LTM Business Unit), Chennai.

Indbank Merchant Banking Services Ltd., Chennai.

AIR & DD [Office of the Chief Engineer (SZ)], Chennai.

MAS Linea Leather Accessories, Mahindra City, Chengalpet.


'S' Pictures, Chennai.

IP Rings Ltd., Chennai.

New Booklands, Chennai.

ESAB India Ltd., Chennai.

Beacon Weir Ltd., Chennai.

Save the Children, Sweden.

ESPIEM Plastics Ltd., Chennai.

Ayngaran International, Chennai.


Lotus Labs Ltd., Chennai & Bangalore.

Deccan Trading Corporation, Bangalore.

Semler Research Center, Salem & Bangalore.


The Planters' Assn. of Tamilnadu, Coimbatore.

Chennai Container Terminal Pvt. Ltd., Chennai.

Kards (Kairali Rural Development Society), Palakkad, Kerala.

Office of the Superintendent of Police, Special Branch, Chennai.

Office of the Principal Accountant General (AG's Office), Chennai.
Note
: Except
ISKCON
, whether all of the organisational entities listed above are still (as on 23-Jan-2023) using Azhagi or not, I have no idea. As for me, personally,
I feel the happiest
whenever I get to know that Azhagi is used either by an individual or an organisation for spiritual/societal works. Sairam.....
Extent matters than Quantity
At the end of the day, it is not the quantity that matters but only the
extent of benefit
and it's long-lasting effect. For instance, apart from the fact that
ISKCON
uses Azhagi, please see the Divine screenshot below and also visit the following sites/pages -
kaumaram.com
,
azhagi.com/periyavaa
,
azhagi.com/swami
. The extent (in both effect and duration) of these sites/pages cannot be ever measured and described in words. Crores and crores must have got benefited in ways that one cannot even imagine. Sairam..... If you still feel the need (say, if you are someone apathetic towards spirituality), then you shall definitely visit
sample testimonials (in Tamil)
and
sample testimonials (in English)
and read the hearty feelings shared by some of the users therein. You may also read the next section titled "
Related 'Quora' q&a and 'Youtube' videos
" in this same page. Thanks.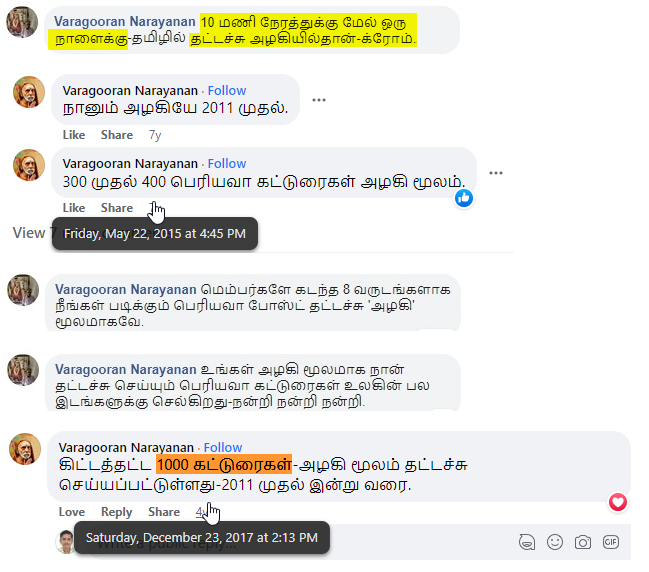 Related 'Quora' q&a and 'Youtube' videos
Related Quora Q&A (indicative of the
extent of benefit
to the society):
Related YouTube Videos (indicative of the
extent of benefit
to the society):
Other related Azhagi.Com pages
Media and Reviews
,
(hi)Story of Azhagi
,
TheSelf