font_download
Tamil Fonts Converter
A "
first of its kind
" and extraordinary Tamil fonts converter. Among other
exquisite features
, Azhagi's converter can do
conversion of formatted text too - directly inside 'MS Word' documents
itself - thereby retaining all formatting - Bold/Italics/Underline, Color, Alignment, Tables, etc. etc. etc. - of all your Tamil text. The converter is extendable by the user himself/herself - to
convert from ANY Tamil font encoding to ANY other Tamil font encoding
. The Tamil font encodings supported by default (as on Feb 2020) are: Unicode, SaiIndira, TamilBible, Tscii, Bamini, TAM, TAB, Vanavil, Shreelipi, STMZH, LT-TM, SunTommy, Amudham, Ka, Diamond, Dci+Tml+Ismail, Gee_Tamil, ELCOT-Madurai, ELCOT-Bilingual, Shree, Mylai Plain, TACE, Elango
For full features list, please
click here
For a
very important help tip
regarding 'disabling all autoformat and autocorrect options in MS-Word' (prior to effecting conversion, in certain cases), please
read this facebook post
For demo videos, please see the following:
Thanks a TON to
Sri Raguveeradayal
for the first 3 videos above.
Using the converter
Using the converter for plain text Tamil fonts conversion is extremely simple. For example, if you wish to convert from Unicode encoding (i.e. from Tamil texts in Latha, Vijaya, Nirmala Ui, etc. fonts) to Bamini font encoding (i.e. Tamil text in Bamini font), then, all you have to do is simply the following.
Choose Unicode for 'from this font encoding'.
Choose Bamini for 'to this font encoding'.
Paste your Unicode text in the left side box.
Click on 'Convert' button.
The converted text will appear in the right side box.
Thats all to it. You can copy/paste the converted text in the right side to wherever you want to.
Note: 'Latha' and 'Bamini' are automatically chosen by the converter itself and since Latha is of Unicode encoding and Bamini is of Bamini encoding.
Please see screenshot below for better understanding.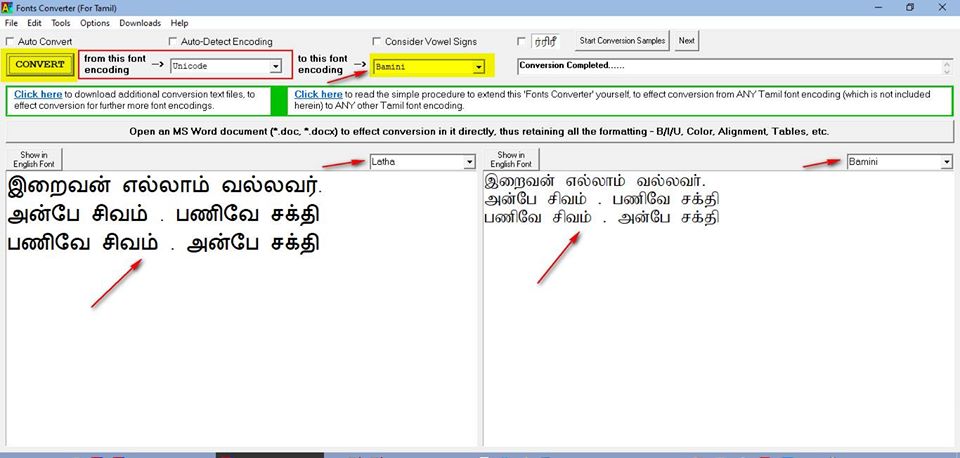 Sample Screenshots