Jana - A story of Grit and Glory

It was the 4th of March in the millennium year. The day dawned for everyone as usual in Chennai but not for young Janarthanan, a mischievous little boy of 8 years studying in third standard who went to school as usual. He returned from school and threw his bag in one corner of the house, and the shoes in the other corner, like every other child does. He then rushed to the terrace of his building to play.
On reaching the terrace, he started playing with his friends. Suddenly fate had brawled with him in the form of an iron rod, seven feet in length. The rod fascinated little Jana and he took the rod to rotate it like a hero. Suddenly, it came into contact with a HT Electrical line that was passing adjacent to the terrace. The electric shock waves ran through the boy's body and the transformer nearby burst into flames with a huge bang. The neighbours ran to the terrace and to their dismay saw Janarthanan half burnt. He was rushed to a nearby hospital for treatment and his parents spent nearly Rs.1.5 Lakhs within a week. Unable to bear the medical expenses, the boy was given treatment at the Government Stanley Hospital, Chennai. Under the guidance of child specialist Dr.Seeniraj,
13 specialist doctors
treated him. Ultimately, the burnt organs had to be removed from his body and they
amputated his right hand till his shoulders, left hand till the elbow. They also amputated his left leg till the knee and removed the toes from his right leg.
It was Dr.Seeniraj who masterminded the surgeries with full confidence and the motivator for the young boy who was undergoing treatment in the hospital for six months and ignited the young mind to live life like every other child. In fact, he advised young Janarthanan to write with the help of his mouth and study further.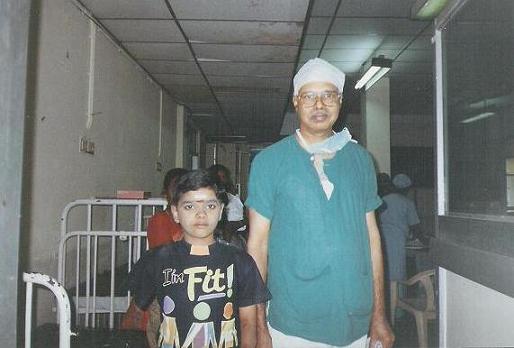 After six months treatment and motivation, Janarthanan was admitted at a rehabilitation centre to have artificial limbs. He started practising to walk, bearing pain. But the boy was courageous enough to withstand the pain just at the recollection of the untold difficulties and mental agony his parents had undergone to save his life. Added to this, his self-confidence and motivation made him walk during the practice sessions and start writing during late nights with his mouth. This gave some happiness to young Janarthanan and his parents. Jana's father had a printing press which he sold off to treat his son, spending nearly Rs. 4 Lakhs.
Jana used to practise writing 1,2,3 in a notebook, with his mouth. One day, he saw his mother scribbling some small flowers in the inside of the back cover of that notebook. It just struck him as to why not attempt drawing those small flowers with his mouth itself. That was the starting point for Jana's unbelievable mouth painting skill. Initially, by continuous practice of writing with the mouth, he could not open the mouth and it became stiff, Jana says. "I worked hard with full confidence undertaking the practice very regularly for long hours, even running late into the night". Jana's father Mr.P.S.Kesavan used to sit with him, encouraging him all the way through. His younger sister Sandhya is of great support and encouragement to him. Now, Jana can fluently write by his mouth and draw many arts with ease.
To continue his education after learning to write perfectly, he tried in various schools before getting admission in Redeemer Matriculation School, Chennai. Presently (as of 20th May 2008), Jana has finished writing (ofcourse, using his mouth) his 10th standard board exams.
"In the beginning, everybody including my school friends used to avoid me and wouldn't come near me. Then slowly, the situation changed and now all my schoolmates are my great friends. They help me like anything. As soon as I enter the school, they carry my bag etc. and act as escorts in so many situations. They make my school life so....... enjoyable. During the initial days of my re-started school life, during drawing period, when other children used to draw, I used to sit quietly and my teacher used to look at me pathetically as to how I would draw the pictures. This gave me an urge to succeed in drawing pictures and catapulted me to this level of drawing pictures", says Jana. "After a few months, I participated in the drawing competition at my school and won the first prize. The entire school was surprised on seeing my ability of painting by my mouth. This paved the way for me and inculcated more courage in me to participate in various competitions. In the national level competition conducted by the Victoria Technical Institute, Chennai, I bagged the first prize and I couln't believe myself that day and I was feeling so ecstatic." says a gleaming Jana. Then success after success poured within an year's span and I won nearly 15 first prizes. My paintings and drawings were featured in all National and International media." This success, he attributes to his parents' tireless efforts/perseverance, the motivation given by his doctor and mentor Dr.Seeniraj, and to the correspondent and teachers of his school.
Well-wishers of Jana have helped him out from around the world coming to know of him through this very site or his various appearances in the print/visual media and have sponsored him computer, mobile etc. in the past 7 years. Jana has a great ambition to become an expert
in computer graphics design
in the future. Jana asserts that he will work hard and restore his family's fortunes to a greater level, via his arts and academics. Let us wish Jana all the very best to become a successful computer graphics designer. In this context, one shall note that after completing his 10th Std. successfully (
writing with his mouth
), Jana took up and successfully completed a comprehensive course in Graphics Design at 'Criya Media Works', Adyar. After his 12th, he undertook (Sep 2010 onwards) a course in 'Visual Communication' in Loyola College, Chennai.
As of now (Feb 2012 to May 2012), Jana is in the position of an
intern
in 'Pudhiya thalaimurai' channel. After he completes his 'visual communication' course, let us pray he gets a position in the channel itself. Jana is stunningly good in multimedia works, I understand. Since I don't have the latest computers with graphics softwares like Maya, etc. I have not seen Jana operate these softwares myself. But, Jana's father says Jana can operate them with speed and ease (doing editing, mixing, etc., etc.) and this is what amazed people at 'pudhiya thalaimurai'.
And for the information of all well-wishers, Jana is back (May 2012) after a one-week trip to
Singapore
. It was Jana's first experience in a plane and naturally his first trip abroad. The international mouth and foot painters' organisation had organised an international conference, meeting and exhibition in Singapore for foot and mouth painters, all over the world. I keep telling Jana that this is just the beginning and hence in times to come he will travel all around the world, inspiring millions. Let us keep wishing Jana the same, in tons.
Update
(on Jana's internship in 'Pudhiya Thalaimurai'):
Jana's appa talked for half an hour or so (as he usually does, sometimes) on 23rd July 2012 and shared the happy news that Jana's position in 'pudhiya thalaimurai' channel got confirmed. He was given the offer letter for the post of Senior Graphics Designer. Decent salary too. Four (4) people will be working under him. What a fantastic news and what an inspiration Jana is! Thanks to the Lord Almighty, as ever, for everything. It is extremely satisfying for me that
my wish
[since the very early days (in 2003) of my first meetings with Jana] that Jana shall one day become a graphics designer (too) has got fulfilled. Praise the Lord.
Update
: After around 2 years in 'Pudhiya Thalaimurai' channel, Jana is now employed with 'Digient Technologies' as Graphics Designer, since Oct 2014.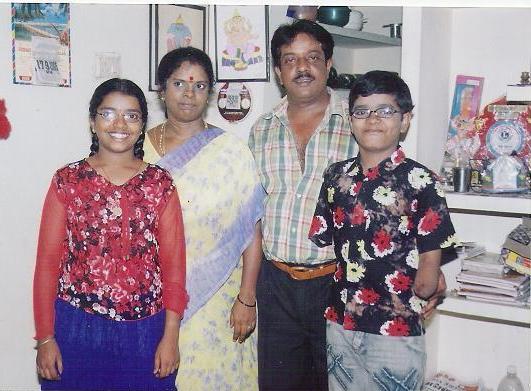 Smiling and positive Jana, with his parents and younger sister Sandhya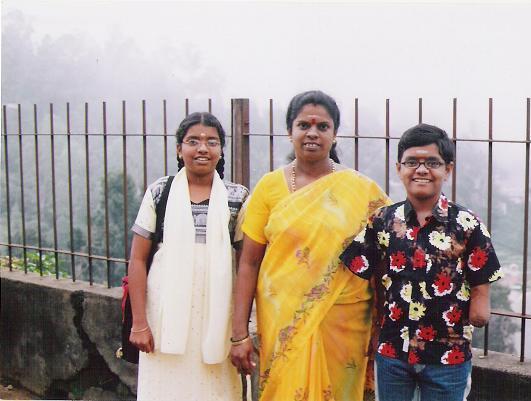 Positive and smiling Jana, with his mother and sister