In the words of Ms.Amutha Shanthy:
PCP (physically challenged people) used to go to Employment office. The staff there used to ask them to go and take Xerox copy. Here the PCP may be a person with just one leg. The staff treat this PCP like any other normal person and ask them to go and take photo-copy without realizing how much hardship it would cause to PCP. PCP may have to cross the roads, wait in the hot sun or traffic.


Many of PCP wouldn't take water or food when they go out, just to avoid the nature calls.


While traveling in train, most of us may not realize the inconvenience of challenged persons in using toilets with crutches, disability shoes, artificial leg, crawling disability etc.


Rural based PCP condition is still more deplorable. Many are not permitted to go to schools because of non-availability of proper transport.


In most cases of PCP, there is lack of emotional maturity to withstand the problems of day to day life. When asked to one PCP, "what is your goal?", she simply replied, "Existence itself is a big question before me. How can I set another goal for me to achieve?" One could realise from this how she is struggling hard to earn her single livelihood.


There is no relaxation or friendly approach in cases like sanction of loan for disabled in Banks and employment opportunities in Govt.


Most of the grants announced by Govt. have not been effected even after lots of petitions, appeals, fasts, struggles etc. and Non-implementation of the 'Persons with Disability Act' of 1995 has left the physically challenged people high and dry.
A brief sketch on Amutha Shanthy
Amutha Shanthy is a young, cheerful and dynamic lady. She was doing accounts work in a Theological Seminary in Madurai District of Tamilnadu, prior to founding Thiyagam. Amutha Shanthy had made a conscious decision few years back to dedicate her life wholly for the physically challenged women. Amutha Shanthy doesn't have her left forehand, right from her birth. When she was born as a girl baby with one hand, her mother Jayamani burst out with agony and anguish. The relatives advised her mother, "Your family is not in good condition now. You can better leave the child in the hospital and through them, join her in an orphanage". But, that very girl who was referred by relatives as a bane to household has now started lighting the lives of so many families. "Seeing this, my heart is full", says her mother nowadays, with happiness. A few dailies have covered the selfless service of Amutha Shanthy in detail.
Ms. Amutha Shanthy's contacts:
Ms Amutha Shanthy
No.66/44, Kambar Street,
Madurai 625 010
Tamilnadu, India
Phone: +919345213417
E-mail: challengedwomen@gmail.com
Note:
My sincere thanks to Mr.Ravi of V-set, Chennai, for all the above information on Ms. Amutha Shanthy. To know more about V-set (Vishwa Seva Educational Trust) and its enormously valuable noble and humane activities, visit
http://vset.org
---
Recent press reports
on Thiyagam Trust (a center for physically challenged women), run by Ms.AmuthaShanthy
The Hindu

Dhinamani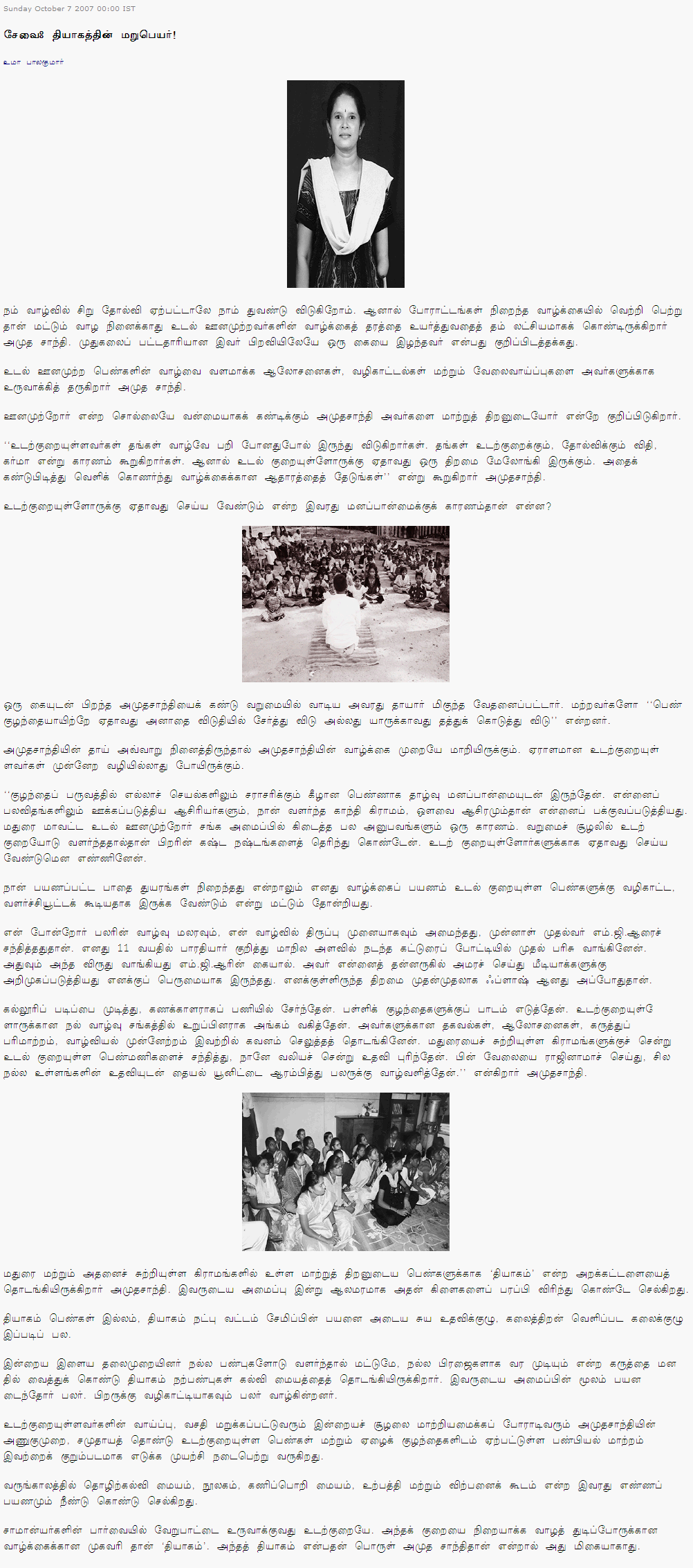 Other Press Links:
Honing skills and learning values - The Hindu