Jana's story has been featured in various media. A list of them herebelow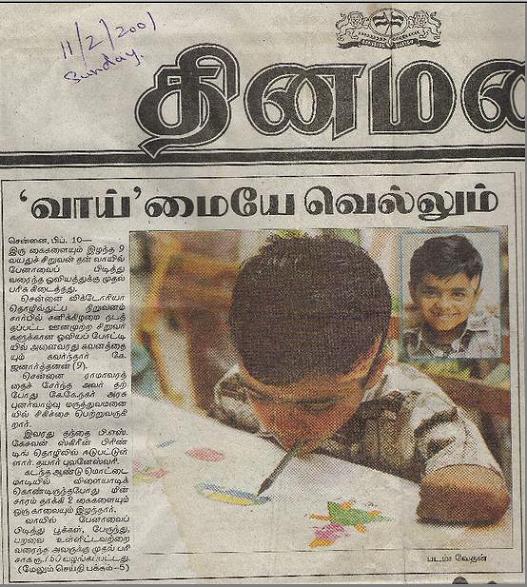 All media gathered as Jana wrote his 10th Std. Board Exams with his mouth during March-April 2008. A sample press coverage below.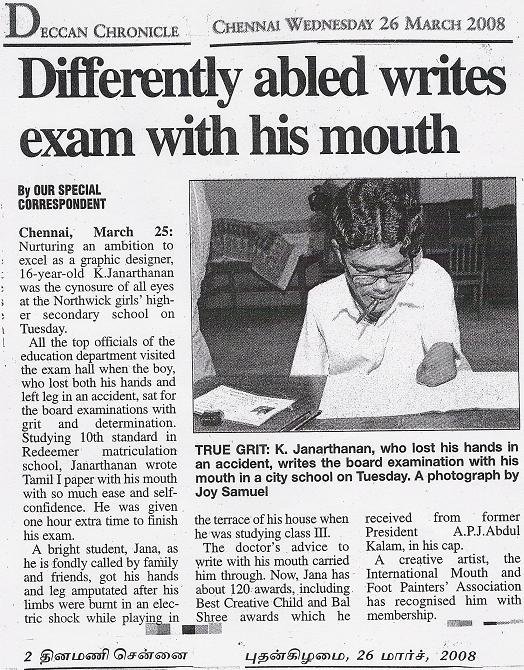 11.02.2001 Dhinamani
11.02.2001 Indian Express
24.02.2001 'siruvar mani' (Dhinamani)
30.03.2001 Kungumam
20.04.2001 Mutharam
04.06.2001 ThamizhanExpress
11.03.2002 Indian Express City Express
24.03.2002 Dhinamani kadhir
24.04.2002 'gnaayiru malar' (Dhinathandhi)
06.01.2003 Ladies Special
10.03.2003 'maalai malar' (Dhinathandhi)
04.06.2003 Arumbu (Students' magazine)
05.09.2003 Dhinathandhi
05.09.2003 Dhinamani
03.10.2003 MakkaL Kural
23.10.2003 Apollo Times
02.11.2003 Kalki
06.11.2003 Rani Comics
29.11.2003 Chennaionline.com & Aramthinai.com
06.12.2003 Indian Express City Express
21.12.2003 'vasantham' malar (Dhinakaran)
19.01.2004 Daily Thandhi
22.01.2004 Dhevi
26.01.2004 'The Hindu' (Metro Plus)
28.01.2004 Smart Chennai
15.02.2004 Dhinamani
16.02.2004 'The Hindu' (Chennai Life)
01.03.2004 Thamizhootru (Tamil monthly)
01.03.2004 Gokulam (Tamil monthly)
01.03.2004 The New Indian Express
01.04.2004 The Hindu
14.06.2004 Kumudam
In 2004, Jana's story was featured in the visual media also
- DD News (3 minutes) and DD podhigai (15 mts)
Well, in 2005 and thereafter, Jana has got featured in so many of the print ('Ananda Vikatan' etc.) and visual media (Sun TV, Jaya TV, WinTV etc.) that it is not possible to maintain the above list anymore. He is a popular person and an inspirator for 1000s. He is a blessed one.