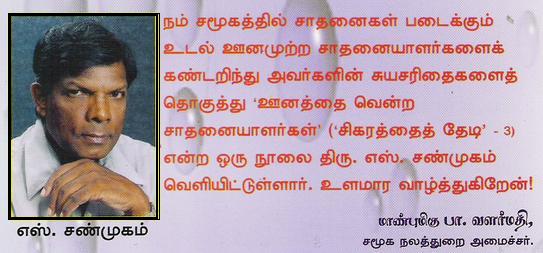 Mr.S.Shanmugam
(having faced so many problems in his life, one after the other) has written a book on the achievements of physically challenged people titled 'Sigaraththaith thedi', published by 'arumbu' padhippagam, to motivate all of us to do better things in our lives. He has travelled to so many places in India, amidst lot of physical and financial difficulties, and personally interviewed each of the achievers, and written this precious book. What he has done is an exemplary service for the cause of these physically challenged persons and for the society on the whole. The book costs only Rs.50 but it is worth 50 millions. Rather, invaluable.
Mr.Shanmugam's contact number is :
91-44-24860221
His email is :
[email protected]
His address is:
No. 54, Kamarajar Salai, Ramakrishna Nagar, Alwarthirunagar, Chennai - 600087.
The least help one can do to Mr.Shanmugam is to buy his book or atleast give a call to him. He will feel so comforted.