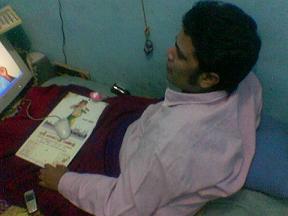 Anthony (born 10-10-1972, in a place 20km to the south of Thiruvannamalai), was a chirpy young boy until 1983 when fate played its hand. He was 11 years (on 10th May 1983) when he met with an accident. He was playing joyfully (in his home village, around 3pm) with his friends when he suddenly felt he was falling down. Well, he fell into a well, which had no water. Atleast if it had had water, my dearest Anthony could have swum. Since there was no water, he fell in such a way that it hurt his spinal cord badly. He could not move his body much. He was rushed to the hospital. When he was being rushed to the hospital and when the doctors were examining itself, Anthony could feel that he was losing sensation of his legs. Finally, it so happened that Anthony lost sensation totally, below his chest. And hence, for the past 25 years, he has been confined to his home - for the most part of his life. He has done TV/Radio repair for some years but he has found it very difficult becos he can't sit without the support of one hand. Then he tried music composing. He had released a devotional album too, singing the praise of Jesus christ. Thereafter, he wanted to get into the film world so that he can earn on his own. In that, he has had setbacks only. So, now he has turned to computers and his single desktop pc has become his life. Friends are there around him to help him out but what hurts him is that he can't earn on his own. He wants to stand on his own legs without depending on anybody and be a burden on them, in one or other way. A kind-hearted friend only has arranged the PC (a second-hand one) for him.
The PC (which Anthony has) being an old one, its speed is also extremely slow, obviously. But, Anthony keeps moving forward with his computer-related works, however slow the PC may be. Anthony is a voracious reader and loves to share his thoughts on Quantum Physics and Philosophy to anyone interested. He admits though, that he will be a little shy to talk with new acquaintances, initially.
He lost his father last year (28th June 2007), which has shaken him up so............ much. He had a lot to tell about his father - as a guru, nice speaker in Tamil etc.
Anthony can't sit without the support of his right hand. Hence, he types in the computer with his left hand only. All the while, his right hand has to rest on his bed on its elbow. Otherwise, he will fall at once on his back. Also, since he has no sensation below chest, he does not know when he has to pass urine and clear his bowels. His sister (God to him) has to press his stomach area and relieve the urine in pans every now and then and she also has to pluck out his faeces every alternate day. If she forgets, he might wet the clothes and surroundings becos he has no sensation at all below chest. Yet, despite such extreme struggle of a life, this man has many innovative inventions to his credit. Read them
here
.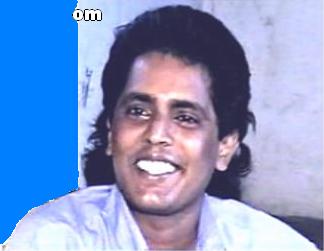 (Smiling and positive Anthony)
Reading Anthony's story and seeing his princely smile, any able-bodied person should be feeling now as: "I am living like a king. I have no problems". Some time during December 2007, my kind-hearted friend
Suresh
felt that a site should exist for Anthony (much the same way as it exists for Jana -
http://jana.azhagi.com
). Hence, this site was initiated on Dec 15 2007 and started functioning full-fledged on 1st Jan 2008.
-- Humbly Ever, B. Viswanathan (Founder,
Azhagi.com
)