My kind-hearted friend
Suresh
wrote the following mail to me after visiting Anthony Muthu on 20/12/2007. It tells a lot. Does not it?
---
Dear Vishy
Yesterday, by god's grace, I have visited anthony muthu with my better-half.
Anthony muthu stays in a very very small room where the bed is laid on the floor. There is a single small fan and a bulb kept exclusively for him. The computer set is also kept in the same bed. One or two visitors can stand there. That's all. Only that much space is available for him.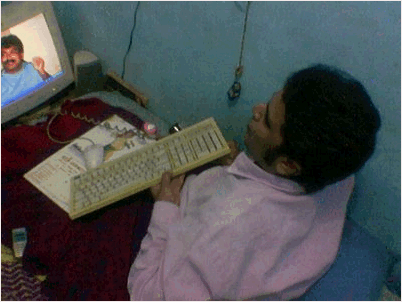 His entire body from the hip is covered with a bedsheet and he sits with the help of his half-sensitive right hand, with the support of the wall.
All around the room during the evening, flies and mosquitoes come in high number. Still the bed'sores are not healed fully. May be an alternate sponge bed may help him better. Most of the days when he removes the bedsheet, his sister has to remove all the ants around his leg though he puts socks and kind.
He was very happy to see us but all of us could not control our sadness looking at him but kept our emotions under the greatest control.
All of us spoke to him. He started crying out of happiness. I spoke to his loving sister and brother-in-law.
The entire home is filled with love, care and something beyond love, my dear vishy.
He struggles to see the monitor as he has to bend his neck and go closer to the computer due to a vision problem in his right eye. For his eye problem also, doctors have said that nothing can be done.
His brother-in-law, a great man with love, is the only bread-winner for the family. His siter has a daughter and she studies in 11th standard.
Nothing more to add now as the tears overflow while writing this mail to you and I don't want to write further and sadden your heart.
Please see the photographs and continue to pray.
Regards to all at your home.
Tons of love
Suresh